"The icebreakers were a lot of fun. I feel that the workshop gave me insight on how to address behaviors and offer positive alternatives." – Workshop Participant
Are you a parent or parent-support professional looking for resources? Then you've come to the right place! We offer tools and workshops for parents and caregivers, like our three Spark Decks specifically for use at home outlined below.
Join our Parent and Caregiver mailing list to receive helpful tips, tools, discounts and updates! FOR FREE!
Need help with your parent engagement and support initiative? Contact us to see how we can support you.
---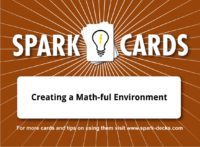 Because parents and caregivers don't always have access to high-quality resources or training on how to support children's learning, AND because there is never enough time to do professional development with youth-serving staff, our "Creating a Math-ful Environment" Spark Deck provides 52 ideas for improving everyone's ability to support math learning on-the-job and on-the-go, whether it is a program leader working with a group of youth, a parent at the supermarket, or a babysitter stuck at home with kids on a rainy day. Designed to be used at home, around town, and in youth-serving programs and school settings, the suggestions on the cards are aimed at maximizing play and creativity in service of helping children develop strong math skills.
We also offer this deck in Spanish!
---
Want to help your child build skills like Growth Mindset, Self-Management, and Interpersonal Skills? Then our "Social and Emotional Learning at Home" deck is for you! Filled with ideas for fun activities, games, and practices that support your child's development, these cards will help you AND your child be more socially and emotionally competent.
---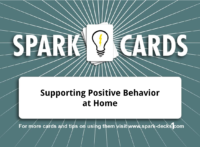 Our "Supporting Positive Behavior at Home" cards offer a variety of practices and activities to set clear expectations, develop routines, create a caring environment, and resolve conflicts.